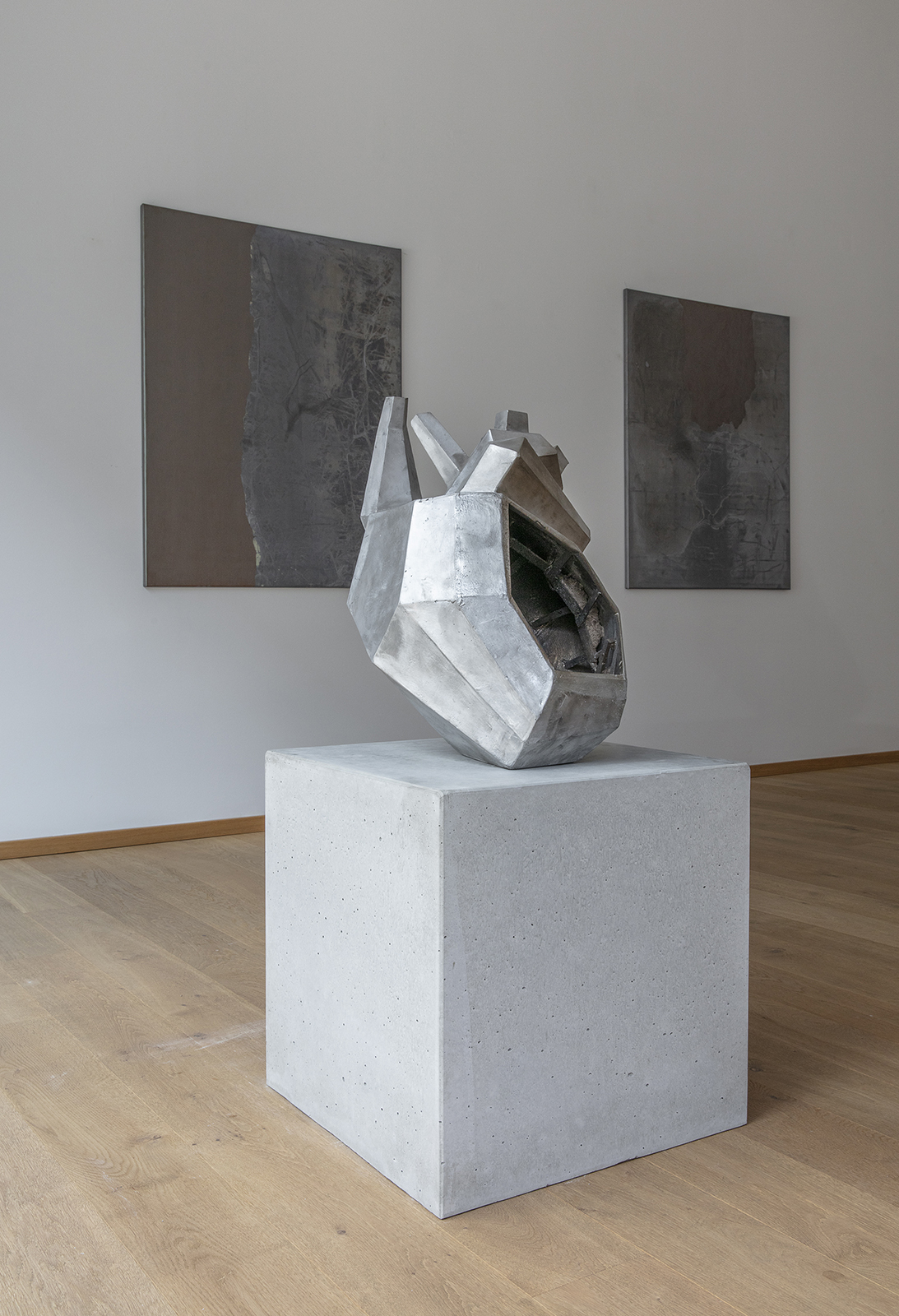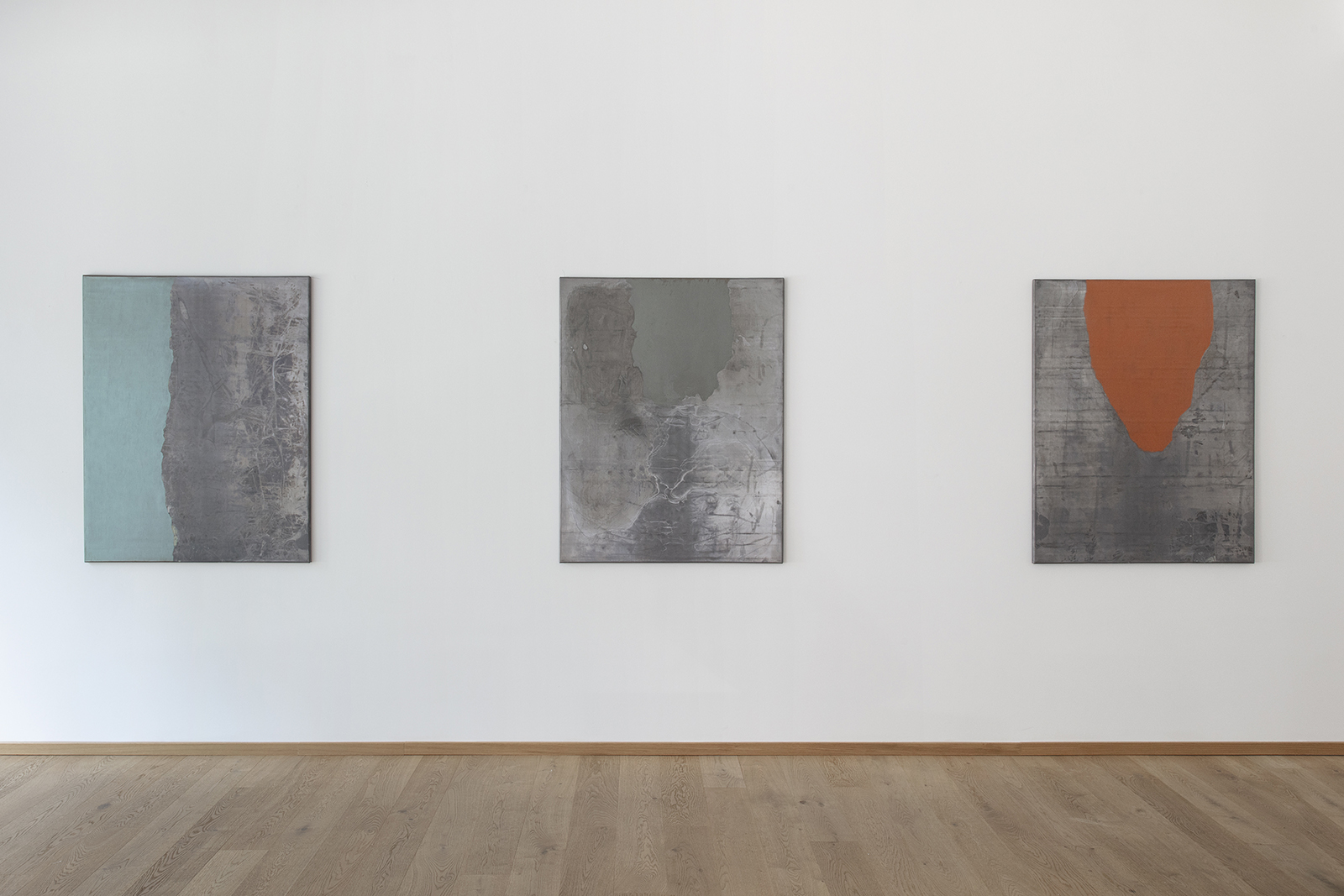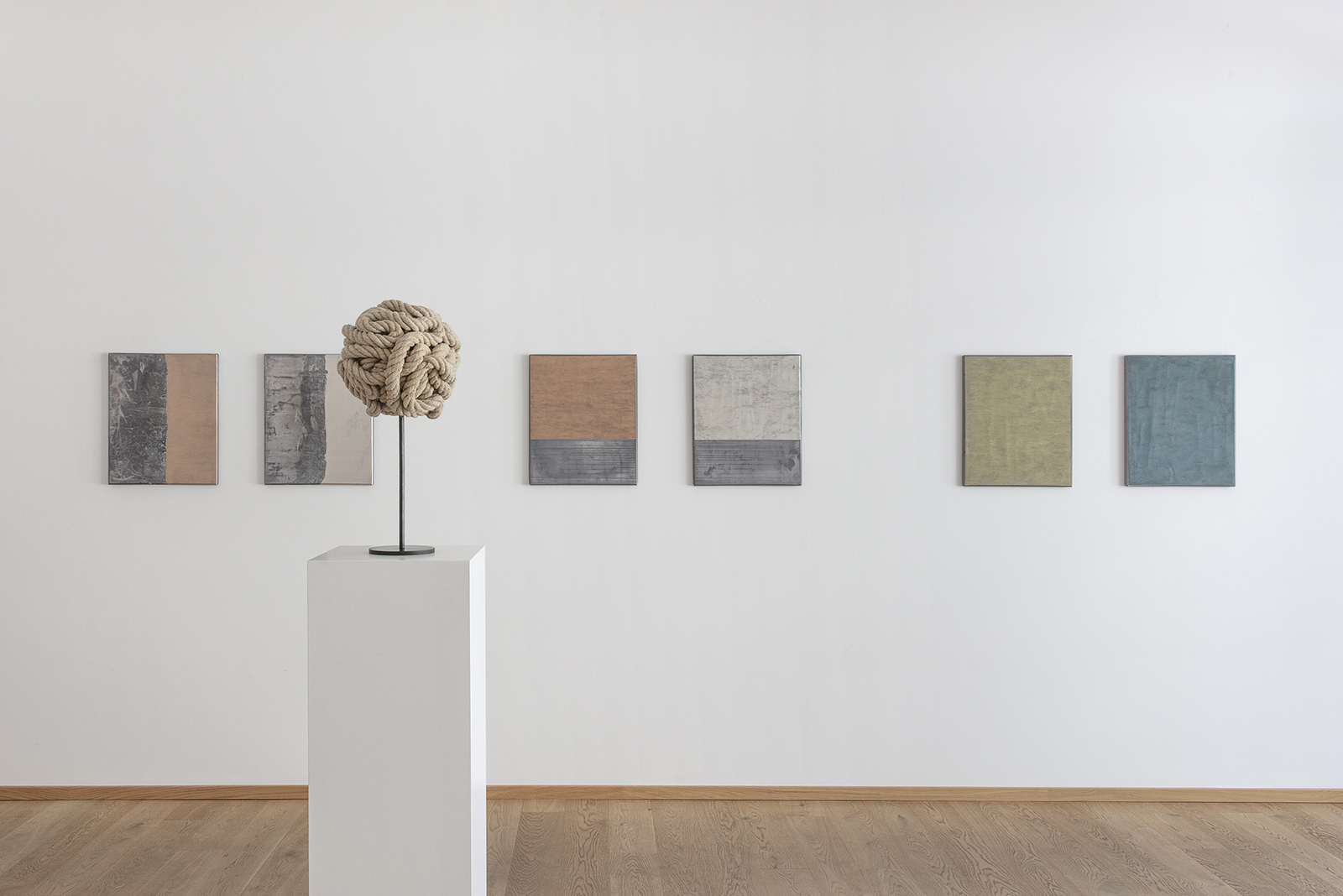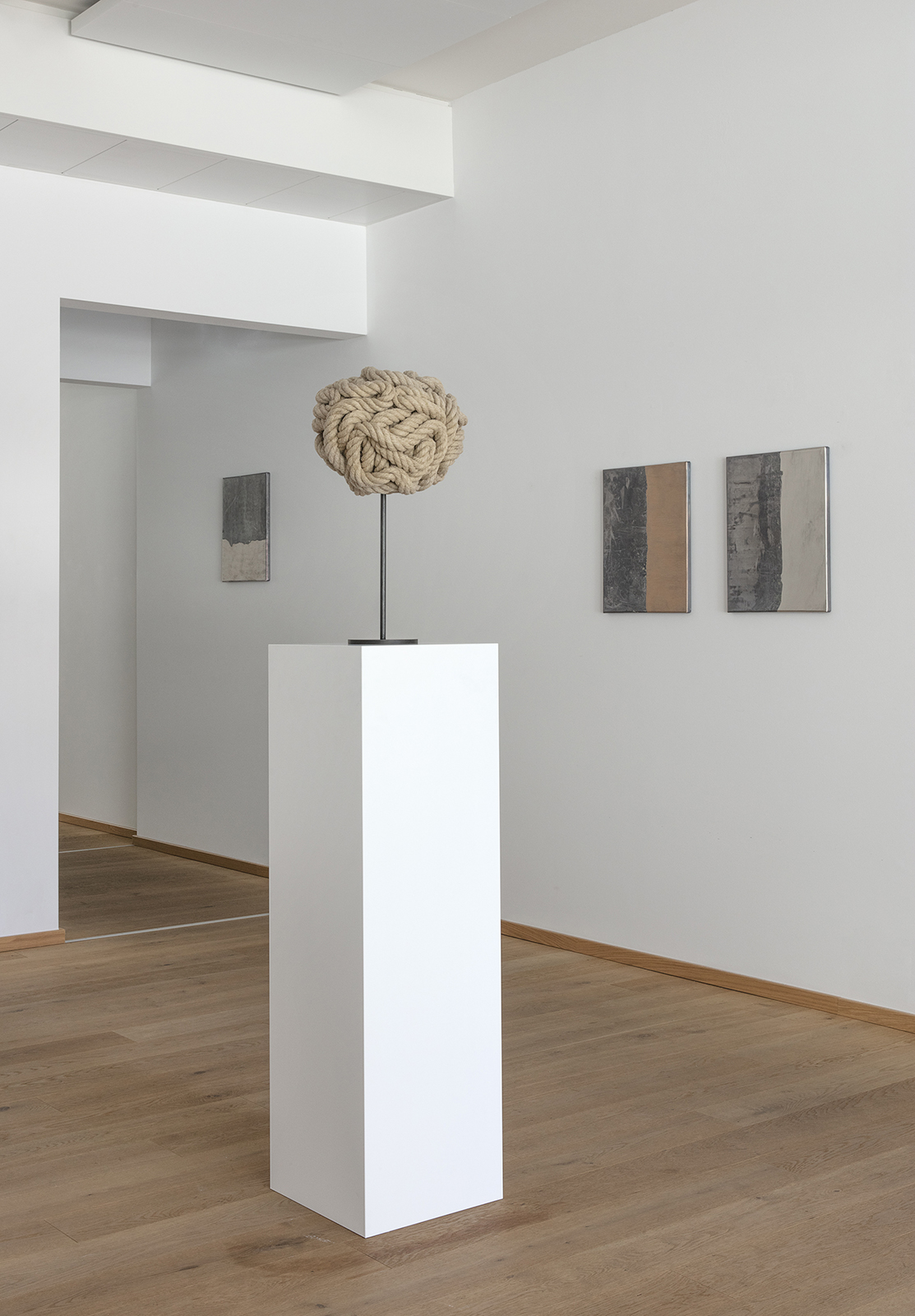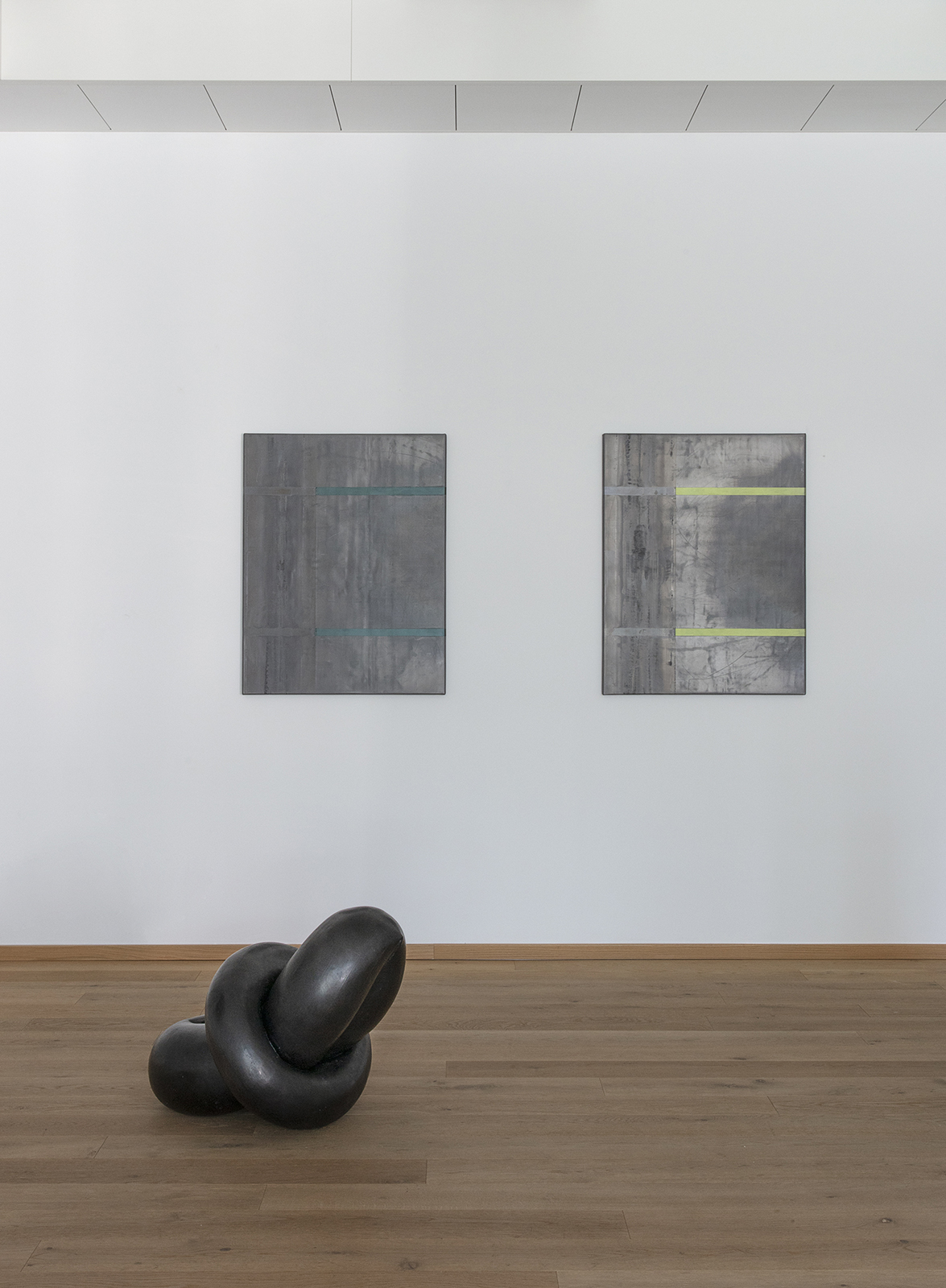 Plumbum
LIVIE FINE ARTS, Zürich
For his first solo show at Livie Fine Art, Berlin-based artist Michael Sailstorfer presents a body of new paintings in dialogue with three sculptural motives which the artist has developed in his more recent practice.
This exhibition showcases Sailstorfer's inherent interest in the transformative power of common or technical materials. His practice subverts the context of materiality to reconfigure meaning through artistic transformation, which finds its most recent manifestation in the painting series titled Heavy Eyes.
Curator Kris Douglas, with whom Michael Sailstorfer worked on the exhibition It might as well be spring at the Rochester Art Center in Minnesota, writes: "These new works are executed with lead sheet and commercially available cosmetics—specifically eye shadow. The combination of these materials may initially seem in patent opposition, but this is by design. Presented in a traditionally formal and modernist manner, these works refer to a number of diverse art historical contexts while simultaneously creating new aesthetic and metaphoric positions. As a German artist, Sailstorfer readily understands the history, implications, and use of lead as a material, specifically by a number of his fellow countrymen— Günther Förg, Anselm Kiefer, and Joseph Beuys, to name a few. In Heavy Eyes, Sailstorfer explores the notion of "weight" in it's many possibilities of understanding—from the perspective of the innately material or physical to the humanistic emotions of burden and sadness. As a base, the use of lead brings many avenues for interpretation—its weight or heaviness, its toxicity, and the various ways it has been utilized throughout history. In a particular opposition we have eye shadow, something soft and feminine, used to create or augment beauty. But in the same way cosmetics can highlight and enhance what is already present, they can also cover or mask the unwanted, providing the user with a means to present a more desired projection of self."
The juxtapositions and contradictions in Heavy Eyes find their continuation in the three sculptures that complete the exhibition. Very Heavy Cloud at first sight seems to be a sculpture created with two inflated innertubes, an ephemeral and light object. On closer inspection, the work reveals itself as a bronze cast firmly secured to the ground by its own considerable weight. Brain is formed out of interwoven ropes, illustrating the complicated process of thinking, whereby the gravity of this process manifests itself in endless mind loops. The third sculpture Factory is a playful metaphor for the transformative energy that is required for life. The oversized heart is activated by creating a fire in its orifice, thereby beginning the conversion of matter into energy.