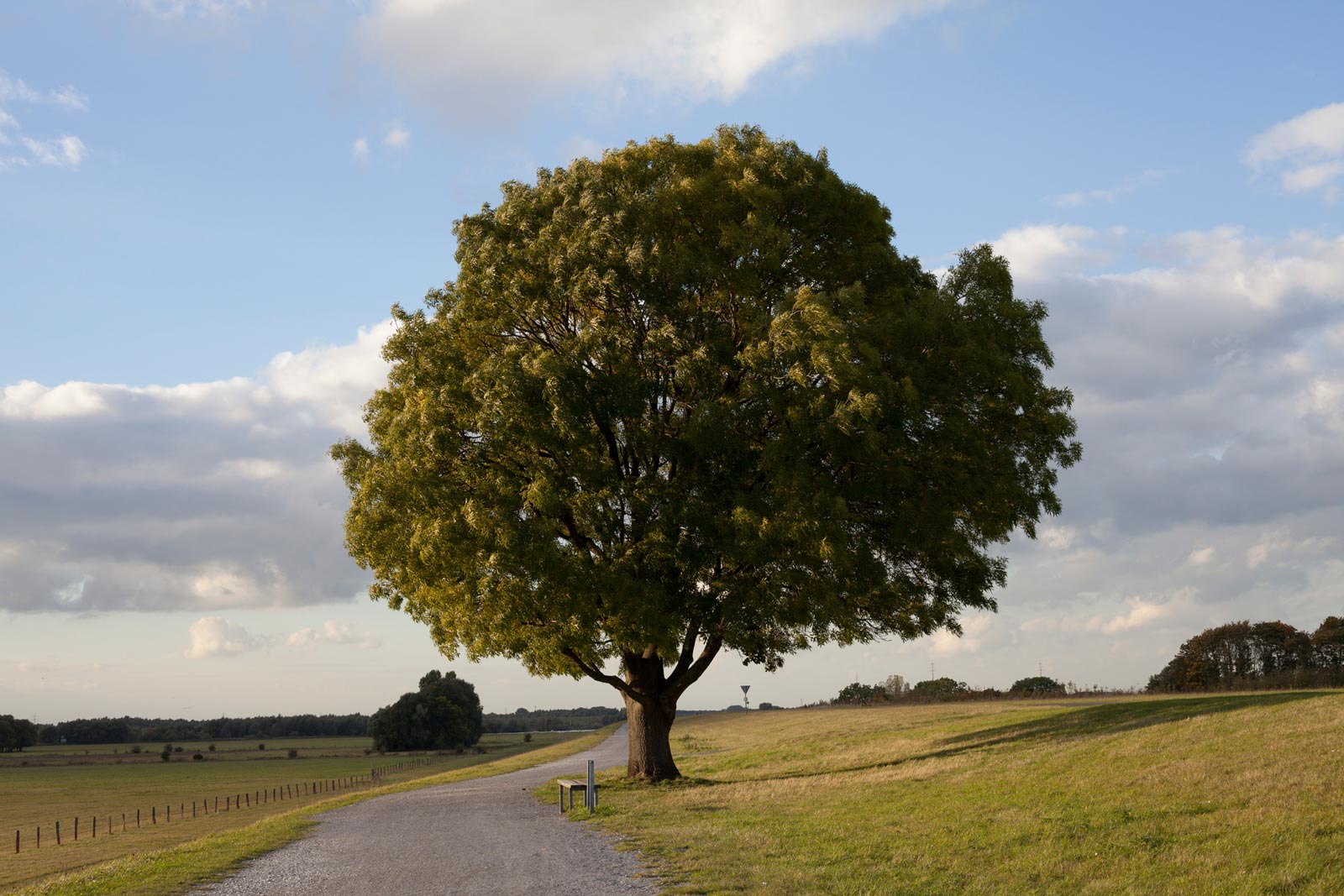 Photo: Achim Kukulies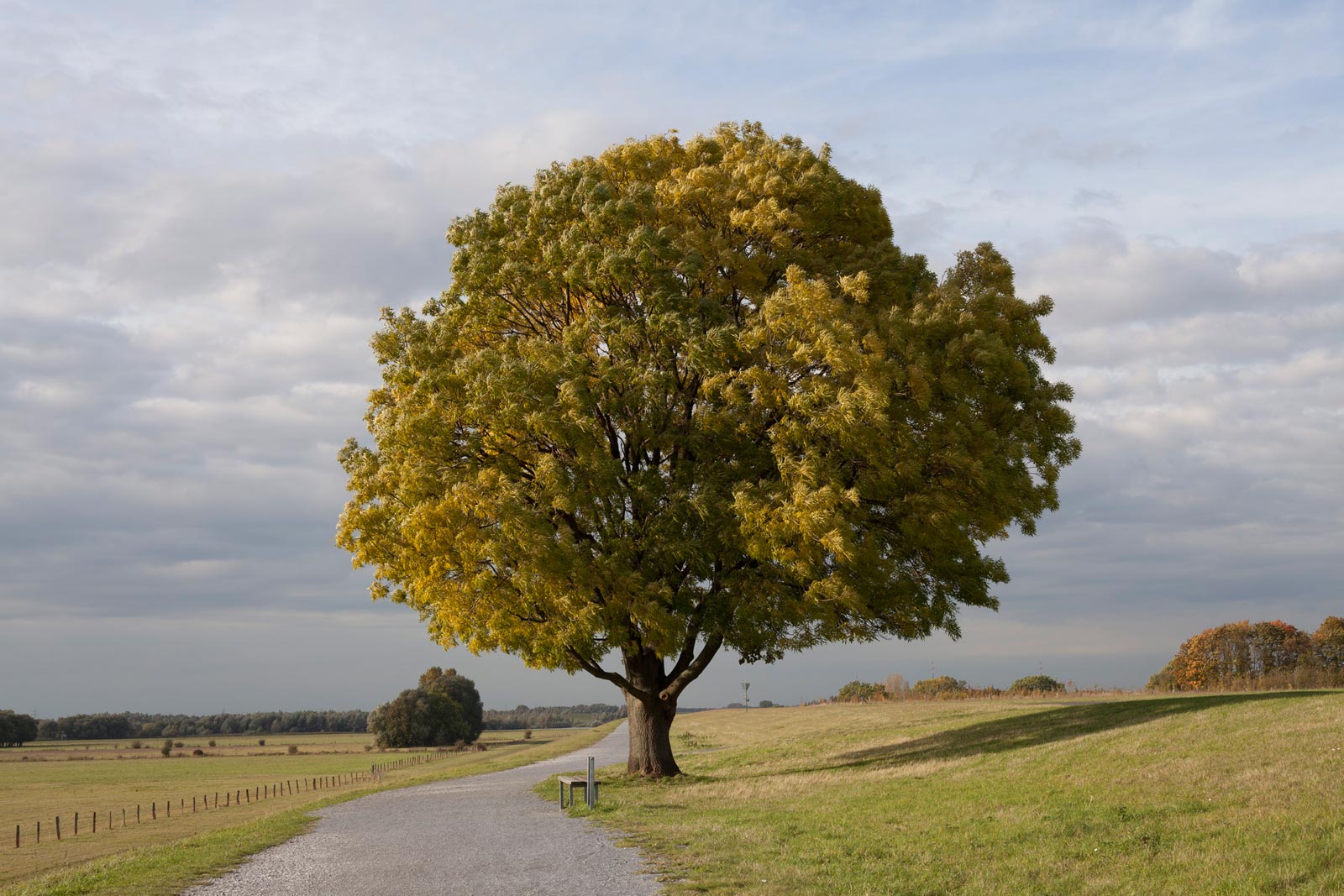 Photo: Achim Kukulies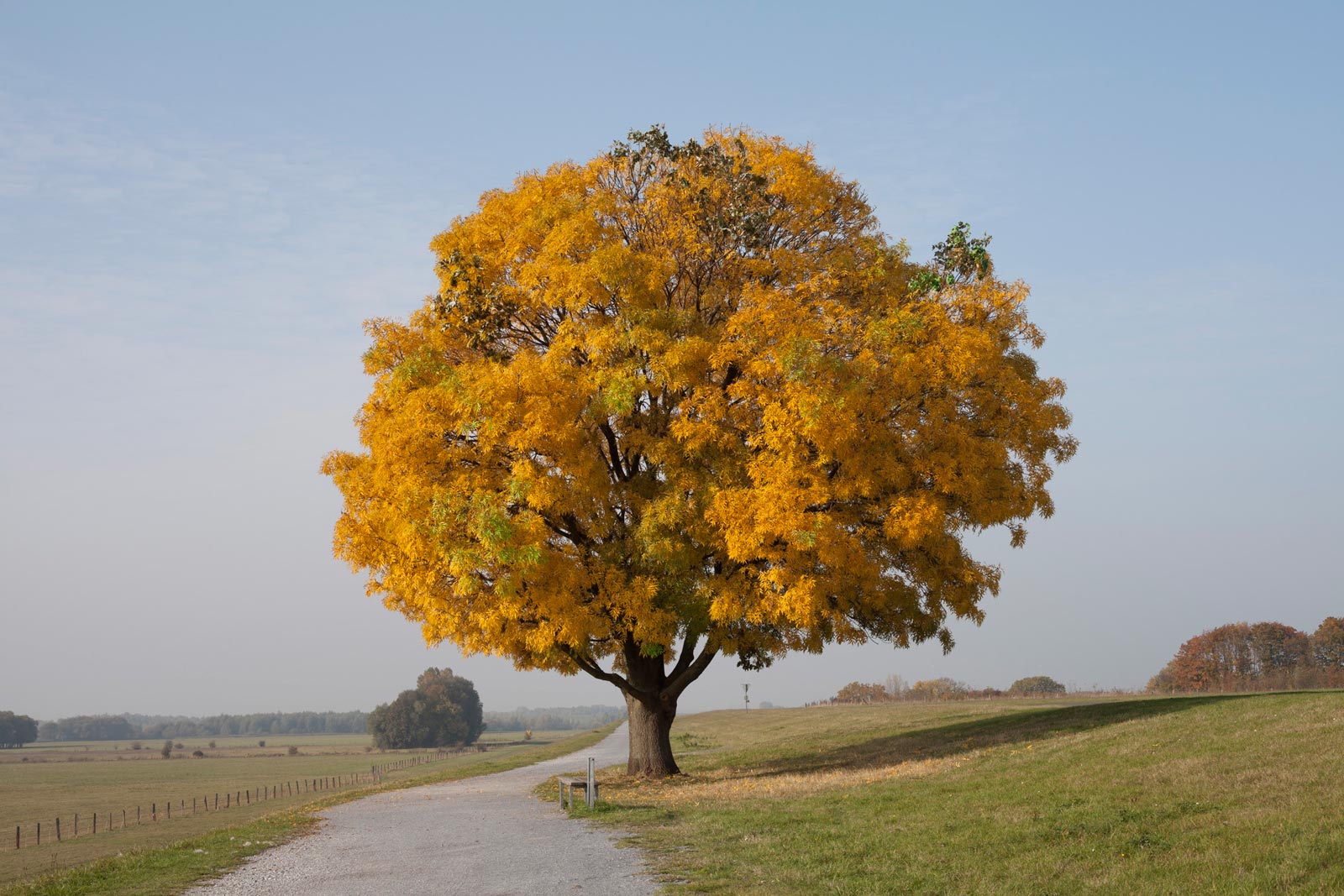 Photo: Achim Kukulies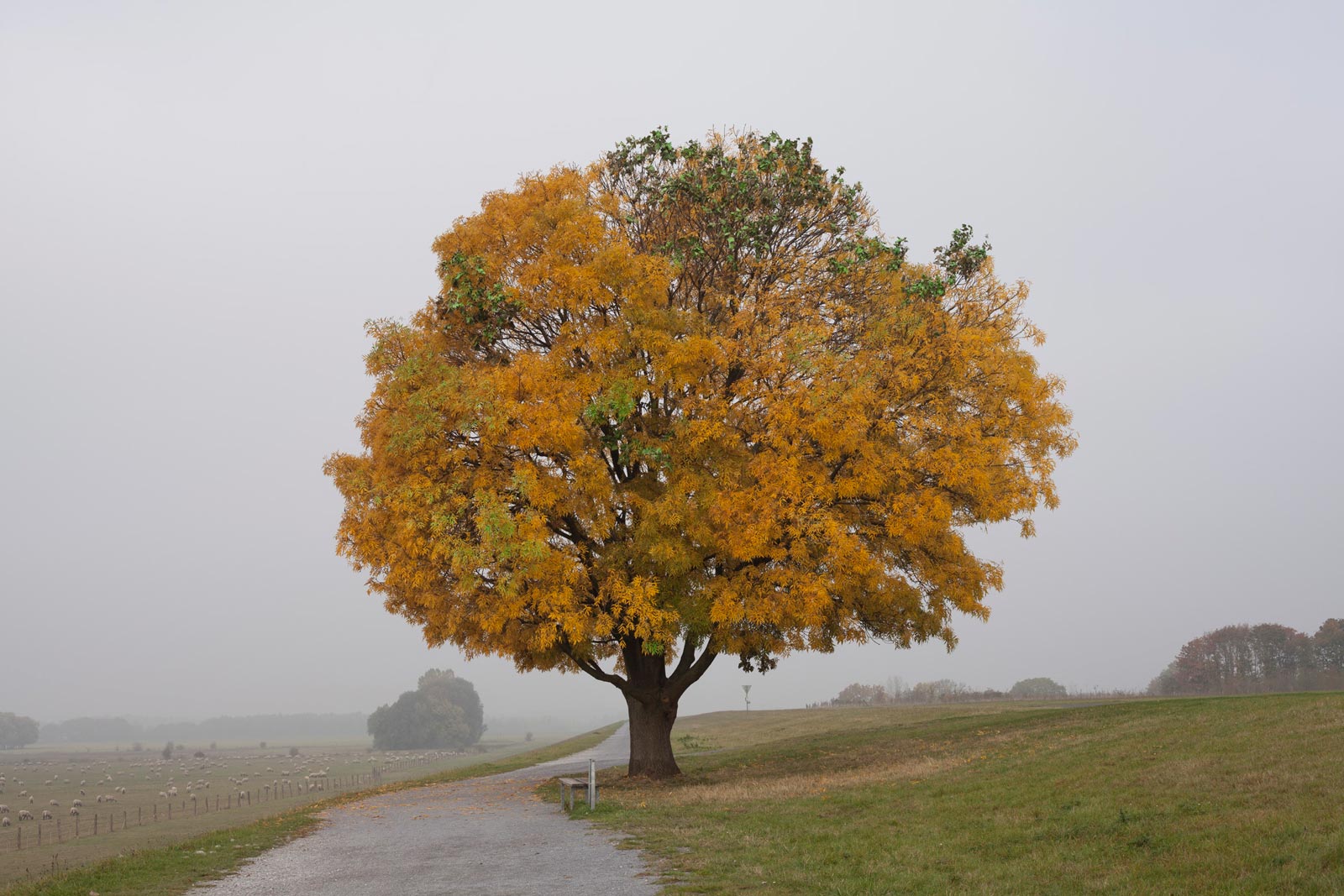 Photo: Achim Kukulies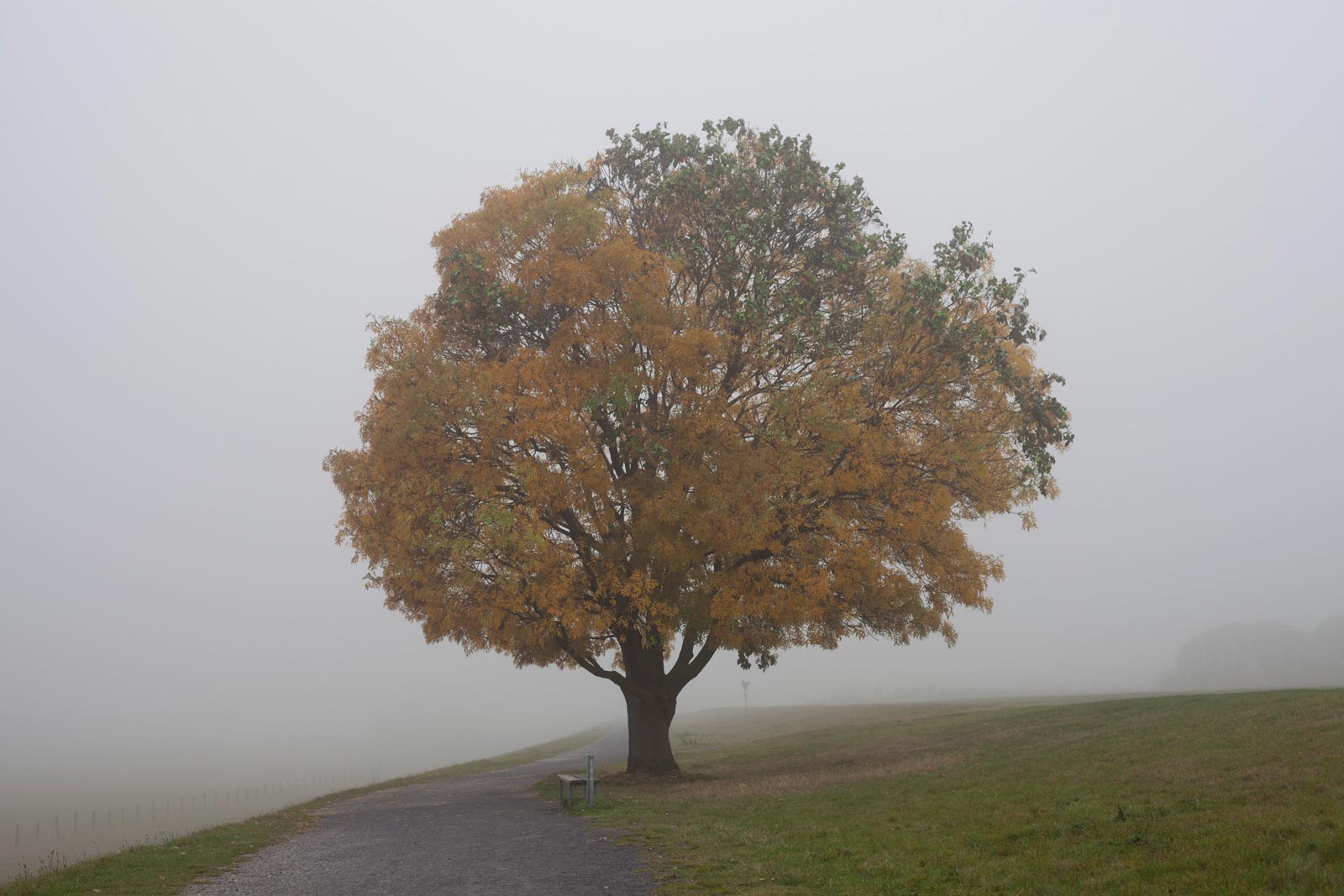 Photo: Achim Kukulies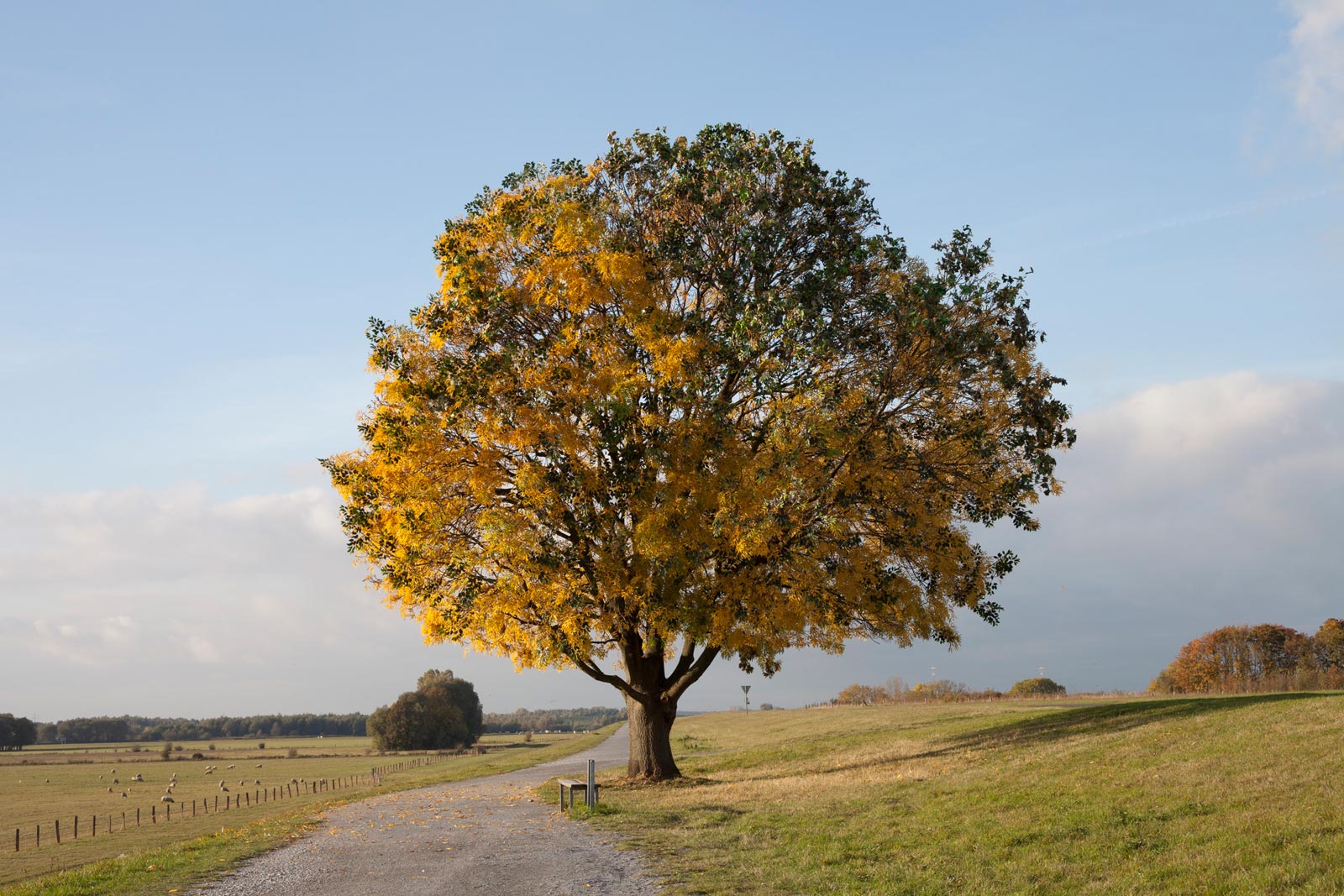 Photo: Achim Kukulies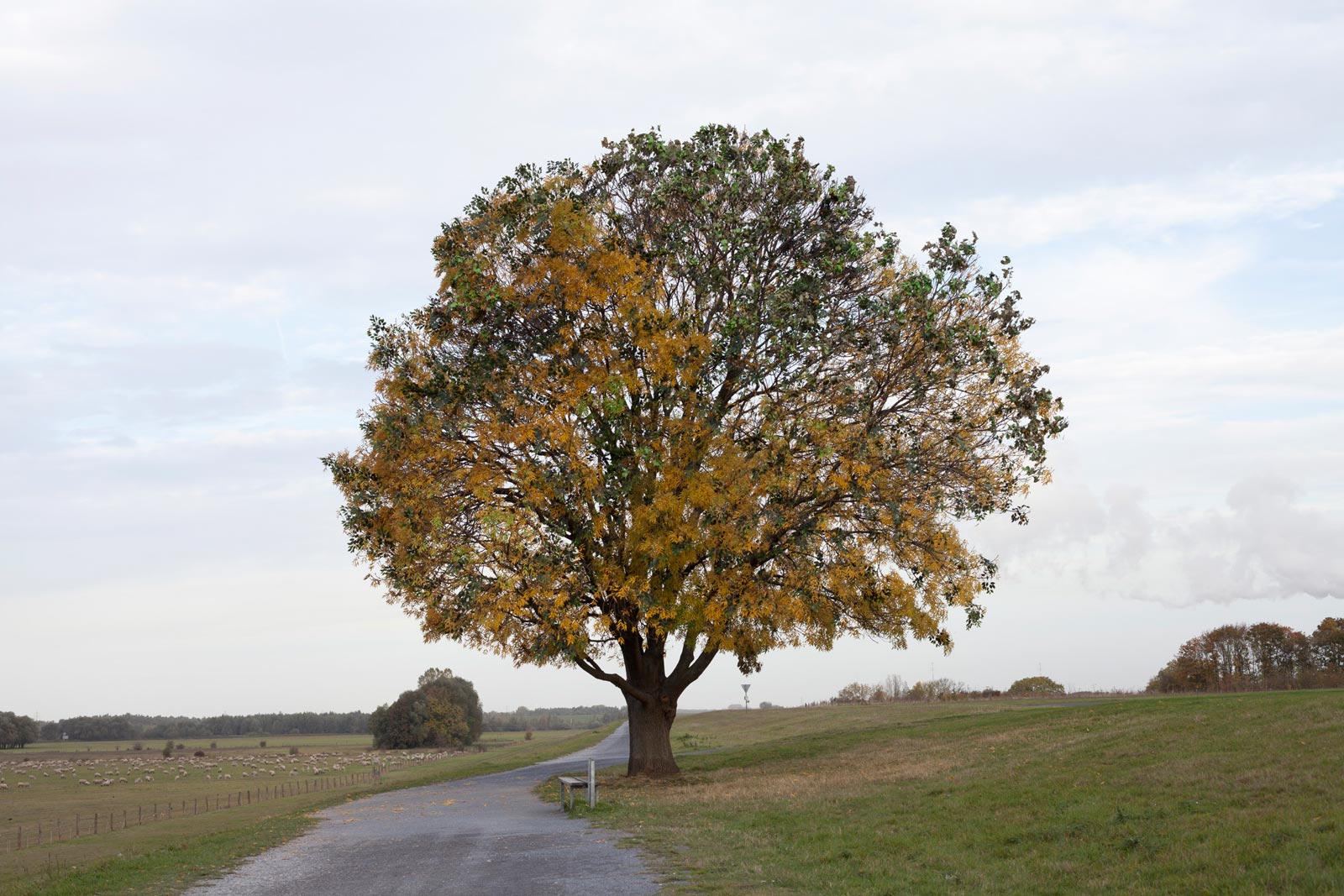 Photo: Achim Kukulies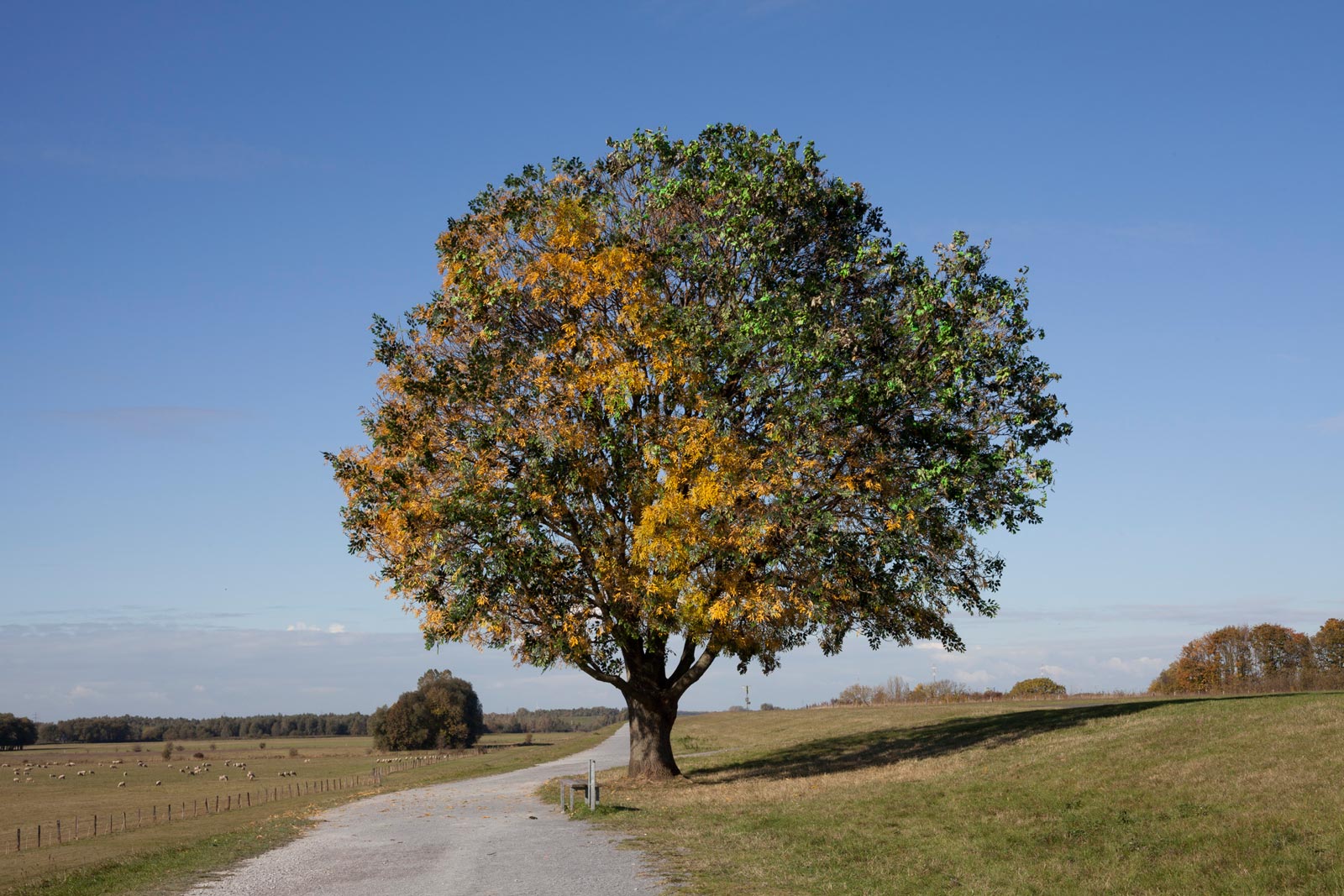 Photo: Achim Kukulies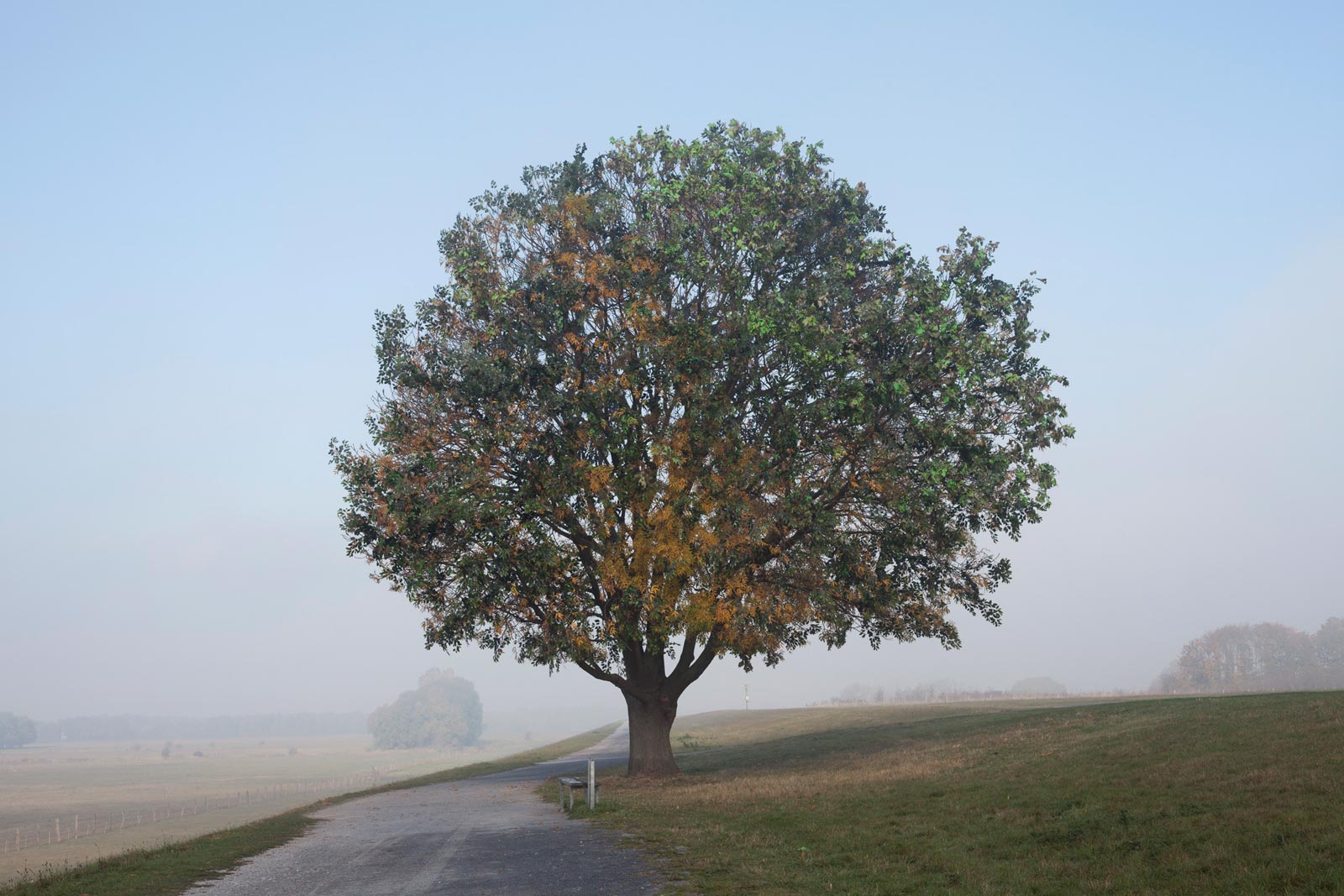 Photo: Achim Kukulies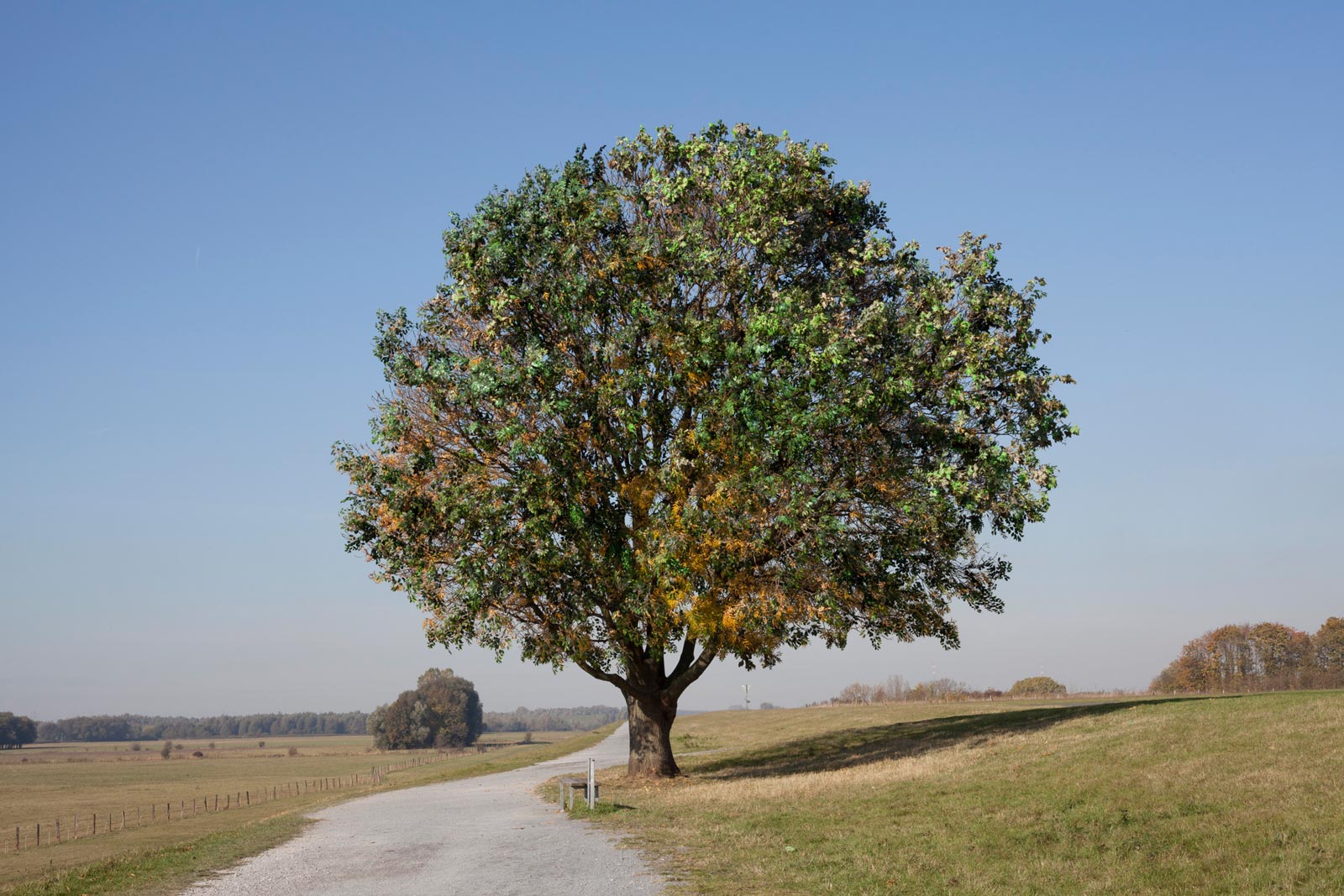 Photo: Achim Kukulies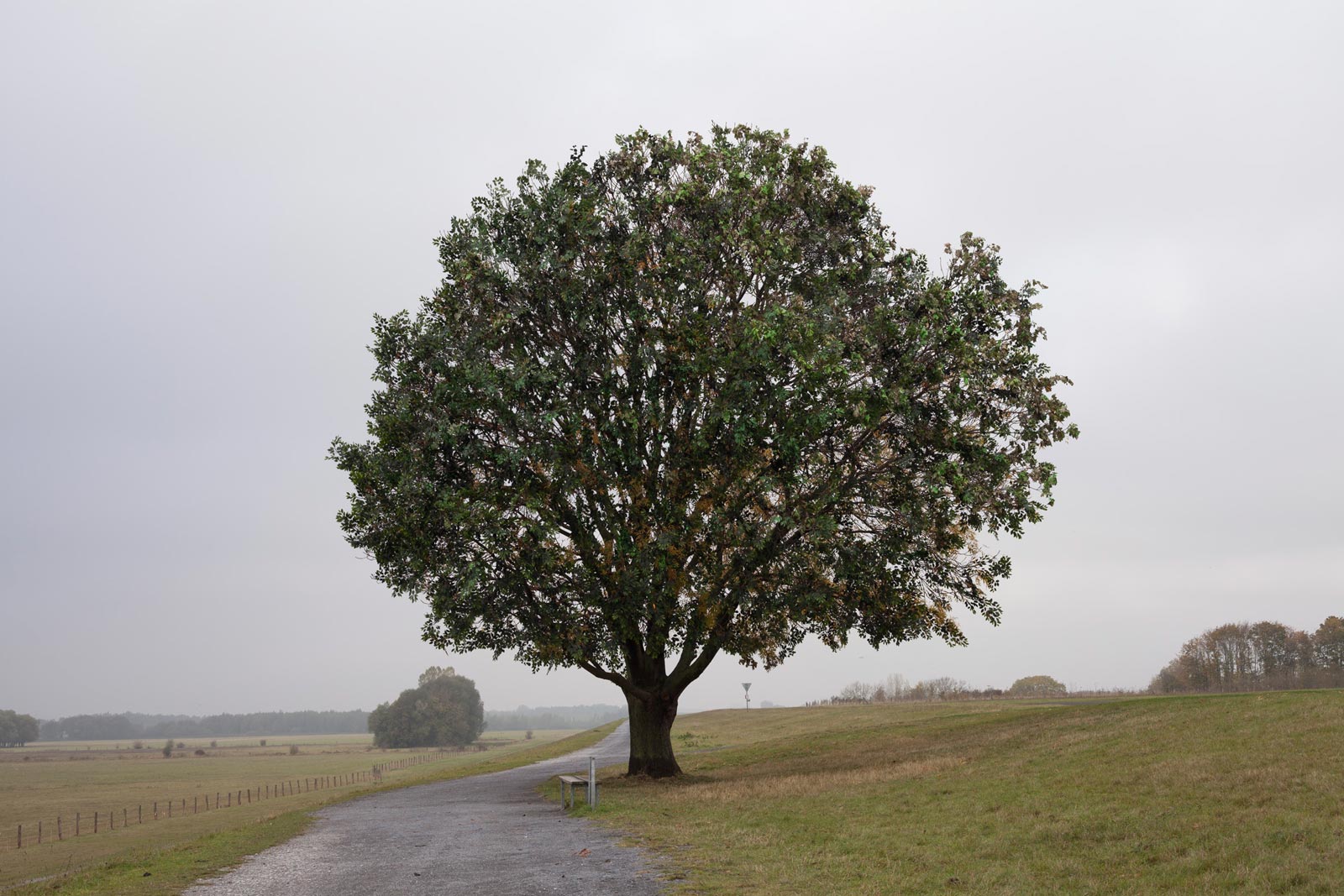 Photo: Achim Kukulies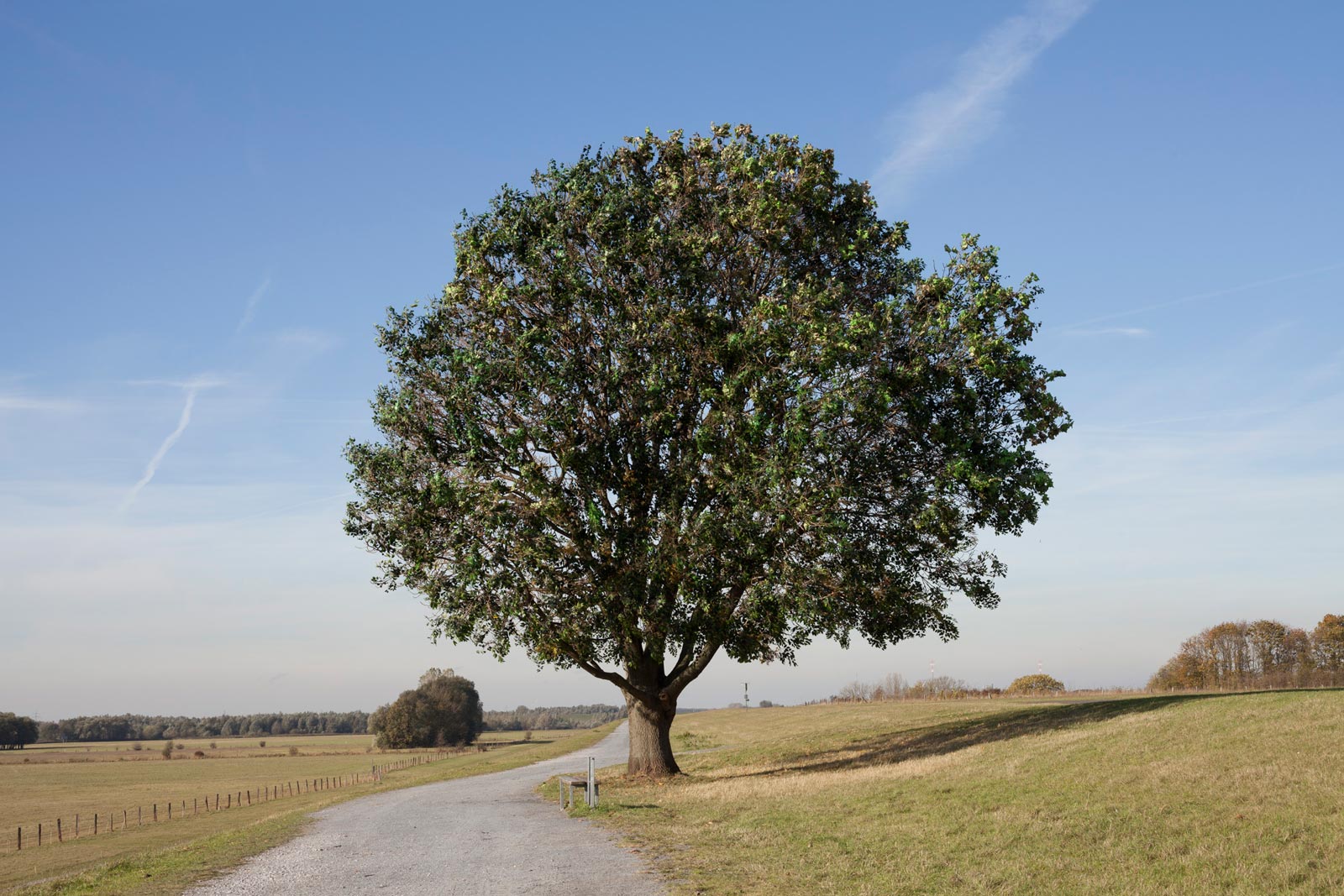 Photo: Achim Kukulies
Antiherbst
Emscherkunst.2013, Walsum
Pressemitteilung / EMSCHERKUNST.2013:
Der junge Konzeptkünstler Michael Sailstorfer realisiert für die EMSCHERKUNST.2013 einen Beitrag mit dem Titel "Antiherbst", dessen Produktion bereits im Oktober 2012 begonnen hat und als Langzeit-Performance bezeichnet werden kann: Sailstorfer hat sich auf dem Rheindeich nördlich der Hubbrücke Walsum zwischen Duisburg und Dinslaken einen einzeln stehenden Baum ausgesucht, den er zusammen mit seinem Team bearbeitet. Sobald im Frühherbst die ersten Blätter fallen, werden diese von den Mitarbeitern des Künstlers unter Zuhilfenahme einer Hebebühne wieder mit feinem Draht an die Äste geheftet. Diese Sisyphus-Arbeit dauert mehrere Wochen, vermutlich bis Ende November, bis der Baum alle Blätter verloren hat und diese wieder angeheftet worden sind.
Dieser Prozess wird filmisch dokumentiert: In einer Entfernung von ca. 15 Metern ist eine Kamera platziert, die – immer aus derselben Perspektive – den Vorgang des natürlichen Abfallens und des künstlichen Wiederanheftens dokumentiert. Das Filmmaterial wird im Anschluss so bearbeitet, dass Sequenzen mit Personen und Arbeitsgeräten eliminiert werden: "Man sieht nur das Bild des Baumes, dessen Blätter sich verändern, sich bewegen, immer unwirklicher und künstlicher anmuten, aber im Kontrast zu den Bäumen, die sich im Bildhintergrund befinden, nicht abfallen." Und weiter: " Die Tonspur des gesamten Filmes ist das Rascheln der Blätter, wenn sie wieder angeheftet werden.", so Sailstorfer in seiner Beschreibung seines Beitrags für die EMSCHERKUNST.2013.
Press release / EMSCHERKUNST.2013:

The young concept artist Michael Sailstorfer is creating the work "Anti-Autumn" for EMSCHERKUNST.2013, the production of which has started in October 2012 and can be described as a long-term performance: Sailstorfer has selected a lone tree on the Rhine River dyke, north of the lift-bridge at Walsum between Duisburg and Dinslaken, which he and his team will be working on. Once the first leaves begin to fall in early autumn, they will collect and re-attach these to the tree with fine wire, using a cherry picker. This task, reminiscent of Sisyphus' condemnation, will continue for several weeks - most likely until mid November, when the tree will have lost all its foliage and the leaves will have been reattached.
The entire process will be documented on film: A camera will be placed at a distance of around 15 metres, and will capture the tree losing its leaves and their artificial reattachment from a constant perspective. The film material will then be post-edited so as to exclude any footage containing people or machinery: "The only thing visible will be the tree and its leaves, its continuously changing look, its movement and increasingly surreal and artificial appearance, with leaves that remain in place unlike those on the trees in the background". And more: "The soundtrack of the documentary will feature the rustling of the leaves as they are being reattached."